Q. Let classical music speak for itself.
Why dumb it down?
A. The European classical arts in America flourished after WWII with a flood of immigrant artists, audience and patrons, plus a major foundation willing to stabilize them. And then popular music & sports developed either into spectacular entertainments competing for cultural dominance or kitschy protest parties throwing off the blessings of the bourgeoisie.
As artistic standards for the fine arts continued to rise despite less instruction in public schools, fewer would benefit from them as the arts industry passionately resisted compromising for education-averse music lovers. Only those with the cultural knowledge could access and classical music; and fortunately we had plenty of them.
Today, outside the arts bubble, cultural democracy is leaving classical music further isolated and artistically less diverse (pure), despite the Asian boom. Classical music is hardly connected to, owned by or renewed by the American populace.
Concerts and listening habits have grown wonderfully art-centric over the last 130 years, even while pop music, two great recessions, MTV, the Digital Revolution and the subsequent freefall of the recording market prove exactly why our orchestras and their audiences need to open up, step outside and make sure newcomers can see themselves inside the bubble. Building a new tradition (New Classical) CutTime® explains the sacredness of the concert hall tradition, where the potential spiritual impact is maximized. and personal. Consistent exposure over years can build hunger for concerts.
Many suggest that classical music must remain antithetical to popular culture, adding that this music isn't meant for everyone— neither for young adults (music students excepted), nor for ethnic minorities — and therefore institutions should not waste precious resources chasing communities that are not likely to buy tickets or donate. Fortunately, today there are many advocates and grant programs and fellowships for extending classical music  quite broadly, with exposure, teaching, engagement and participation. Our Knight Foundation grant and Rick Robinson's Kresge Fellowship in Detroit are two examples. Who doesn't deserve beautiful, shaped and dramatic classical music?
Today we learn that classical music was less formal as it developed. European chamber music began leaving the casual and intimate chamber settings about 130 years ago, to upscale as a formal musical communion for larger, knowledgeable audiences. Presenters today remain hesitant to loosen the world-class standards to draw a casually if rough  public. After all, the goal of a concert hall is to focus listening, akin to meditation. And so resetting the context of classical music for newcomers would seem to be a new art form.
Q. So if we regularly took classical offsite to start a new tradition, would we generate real desire?
And could this tradition then work in the hall?
A. We believe that as effective New Classical develops, we can expect to see a trickle before a steady flow of people ready to try traditional concerts. We need to first change the conversations around this music, with services that demystify the medium, the musicians and the settings. The AHA moment often occurs when people grasp the value of silence.
New Classical should be able to dial a range of fine vs raw values on a targeted scale from 10 (traditional) to 1 (quite raucous), and present at middle indices appropriate for a given audience. Some methods will translate well to large audiences. At least now we can begin to Americanize classical best, right where it's never been before in clubs and eateries.
When smoking laws swept the country a decade ago, the industry unknowingly won a key opportunity to place classical music in casual venues, such as bars, cafes and homes. The grassroots movement Classical Revolution and GroupMuse have proven that the hunger for casual access among youth is real. CutTime launched the Classical Revolution Detroit (CRD) chapter in 2010, and began cooking up spicy recipes of amplified yet authentic classical and symphonic music, served with key information, laughs and games that engage newcomers. With support from the John S. and James L. Knight Foundation, Kresge Foundation and generous supporters, CRD grew its social footprint sevenfold.
Americans today increasingly divide their attention and absorb just enough information and enough music to satisfy themselves; choosing small bites over committing to a full meal. Classical in club settings becomes a novel and potentially epiphanal alternative: exotic and refreshing in alternation to beat-driven music. To work in such settings, CutTime musicians let go of the demands for silence, so we can test drive a broad range of "what really matters" to casual listeners and solicit diverse perspectives as we scale up, eventually to many chapters. Our work is not popular, but it is very necessary.
Using CutTime methods and music, we can activate the hunger for traditional (pure) classical experiences. Once scaled up and steady, we anticipate growing benefits over many years for our most diverse communities and many classical presenters. Well worth the small overhead, CutTime is a plasma drive for classical music: just turn it on and wait.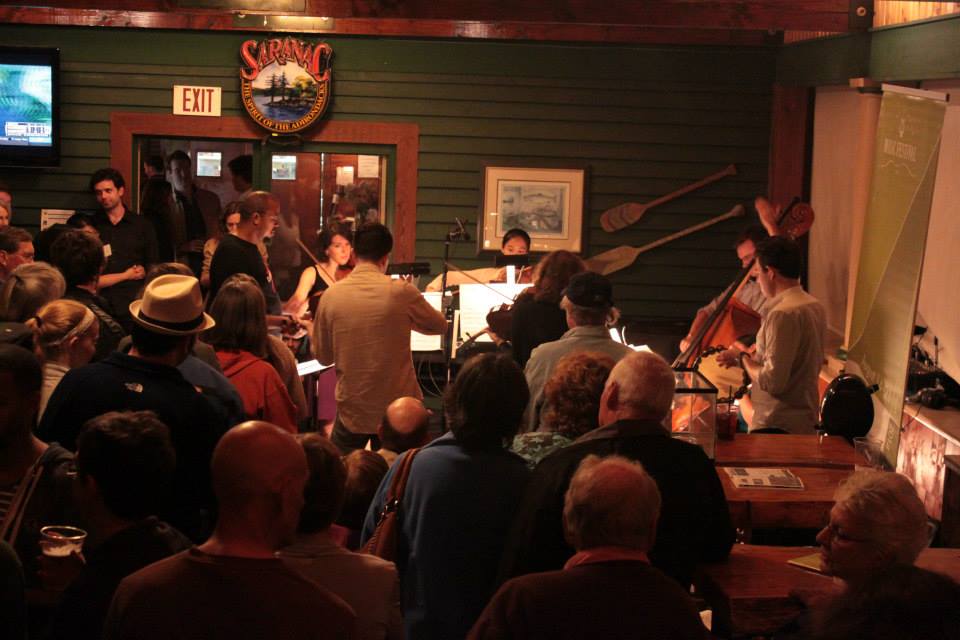 Q. Yeah, OK. But don't dumb the music down!
A. The classical music tradition has been defined by its restraint, formality and refinement. The largest call to relax that standard and adapt to broader demographics came from the American Symphony Orchestra League in 1993. The industry's first reaction was to rant against dumbing down any concerts. And yet a working bridge encourages traffic in both directions. All ideas are needed to connect more people to the abstract of classical music.
Those of us musicians who are young or minority already experience music as universal tools for expression. We imagine how it is possible to serve far more than the 22% who enjoy classical somewhat, and the .2% who support concerts. Broader connections call for re-balancing the polish with humor, key info, participation, shortcuts and obvious passion.
As classical music lovers we all need to show our genuine excitement to family and friends. Imagine you're Leonard Bernstein: start singing a favorite phrase at breakfast.  Hand dance to a favorite movement. Conduct passionately! Ponder comparisons between music  and other activities you love. Bring someone to their first concert, sit in the very last row or stand at the back wall to whisper, move or even conduct a bit without disturbing anyone.
"Musical literacy may be challenging, but music appreciation just takes one good concert."
– Chris Felcyn, Host, WRCJ-FM
CutTime offers a wide variety of music from Vivaldi to Stravinsky. It points to what is enduring about humanity and where we might all meet, such as at a Classical Revolution  event, in music such as Rick Robinson's Pork 'n Beans, or even in a hundred year old Mahler symphony. CutTime means making classical click with casual newcomers.
Learn more about our Purpose.
Read what Detroit Free Press Music Critic Mark Stryker wrote about CutTime.
Recommend CutTime to your local concert presenters.